First Tee National School Program
Tee It Up in Physical Education Class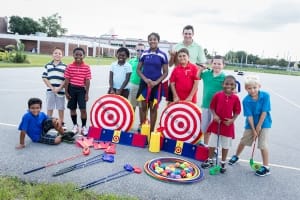 Students across the nation are teeing up for the first time through First Tee National School Program.  Since 2004, First Tee has trained educators at more than 9,000 elementary school on a curriculum that introduces students to golf and core values during physical education classes. Teachers are given all necessary training, lesson plans, and equipment to teach elementary school students the basic skills of golf with safe and fun activities. First Tee works closely with educators to ensure they have everything they need to successfully engage students in daily lesson activities that lead to development of basic golf motor skills. We work with the school to identify funding opportunities, such as sponsors or donations.
This program aligns with national physical education standards developed by the Society of Health and Physical Educators (SHAPE) – the leading oversight organization for PE in the US. The class is designed to be flexible and allows physical educators to adjust lessons to fit their specific teaching situations in terms of class size, class time, and facility type – indoor or outside, big or small space, etc. Additional lesson plans and best practices can be found in our Teachers' Tee Box.

We Make it Easy
First Tee National School Program gives physical educators all the tools to get started. We provide the training, equipment and lesson plans that integrate golf skills, motor skills, core values and healthy habits. Explore our training, curriculum, and the equipment we provide below!
Training
Online Training
First Tee National School Program online training course is an interactive, video-rich session designed to provide vivid examples on how golf skills, core values, and healthy habits are safely and effectively integrated into physical education classes. Any physical educators trained and certified to teach First Tee National School Program may access the online training program free of charge anytime.
In-person Training
First Tee offers school districts and physical education conferences the opportunity to host an in-person professional development session. Each session requires four hours and a large activity space such as a high school gym or convention center ballroom.
Questions?
For more information on our training options, please contact teachersteebox@thefirsttee.org.
Curriculum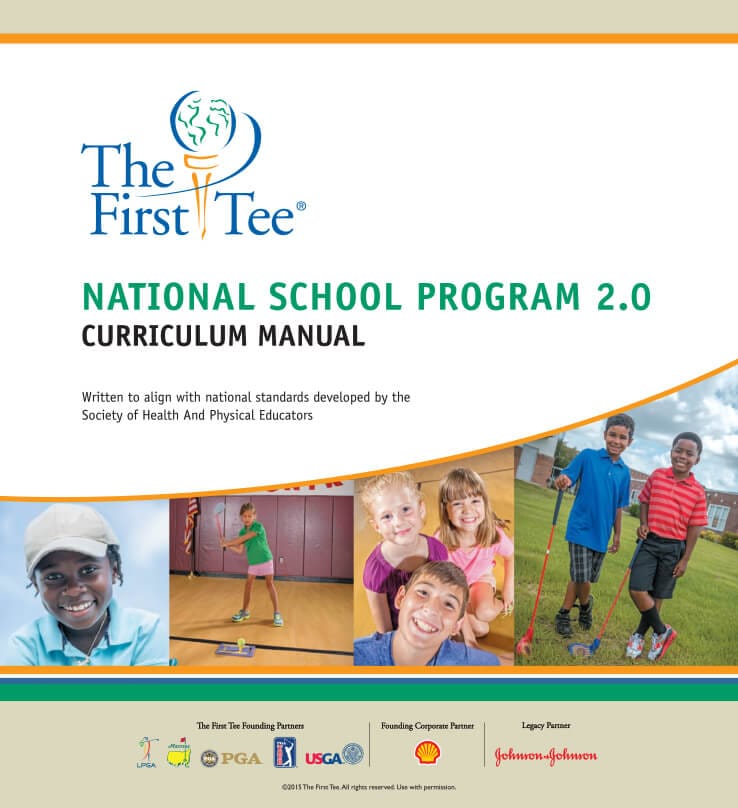 First Tee National School Program provides physical educators with everything they need to get started. The curriculum lesson plans integrate basic golf motor skills, core values and healthy habits.
Our lesson plans are based around four primary areas:
Developmental approach to teaching and learning
Motor skill and concept learning
Character and health education – personal and social responsibility
Lifelong activity
Developing Motor Skills Through Golf
Elementary students actively engage in motor skill learning including how to hold, set up and swing safely as associated with striking a ball using a long-handled implement to a target.  Striking is taught through the basic golf skills of putt, chip, pitch and full swing in gradual, safe progression to align with students' developmental process. Cue word sequences are taught to enable students to better understand the body positions for performing the critical elements of each skill.
Character Education and Healthy Choices
Each lesson also includes one of First Tee Nine Core Values and Nine Healthy Habits are included bringing depth and optimizing the learning process.
Nine Core Values: honesty, integrity, sportsmanship, respect, confidence, responsibility, perseverance, courtesy, and judgment
Nine Healthy Habits: play, energy, safety, mind, family, vision, friends, school, community
Equipment
A safe, effective school golf program requires modified equipment that fits movement and muscle coordination typical with that of beginners. Early success and fun are the keys to creating interest for the game along with maintaining the attention of new learners without causing high levels of frustration.
Fun, Age-Appropriate Design
The equipment utilized as part of First Tee National School Program is modified, developmentally-appropriate golf equipment consisting of over-sized clubs, tennis-style balls, and a variety of targets. The clubs are replicas of two basic traditional golf clubs, a putter and a wedge.  The equipment is intentionally designed to promote fun and challenge, leading to learning and increased success.
What is Included?
Available for both right-handed and left-handed students, the equipment set is configured to include enough clubs, targets and balls to teach up to 24 or 48 participants per class. More students may be accommodated with the addition of more stations, so long as space and proper supervision are present to maintain a safe learning environment.
Equipment
The equipment First Tee uses in their in-school National School Program is Short Golf.
The developmentally-appropriate golf equipment is only available to locations delivering our programs. For more information on how you can purchase our equipment or bring our program to your area, please contact us: hq@thefirsttee.org.
Next Steps
Ready to upgrade your students PE experience? It's easy to get started.
Contact our Community Partnerships Team by completing this form.

We'll work with you to identify funding opportunities (this can be the school, a donor, or corporation).

Once funding is identified we will send you the Individual Partner Agreement for the principal to sign.
After we receive funding and the signed agreement, training, equipment, and the curriculum  manual will be delivered to the school.

Watch your students become good golfers and better people!
While teaching [this program], the confidence level of students improves from beginning to end of the lesson.
Physical Educator, Kingwood, TX