By Sara Wright, PGA TOUR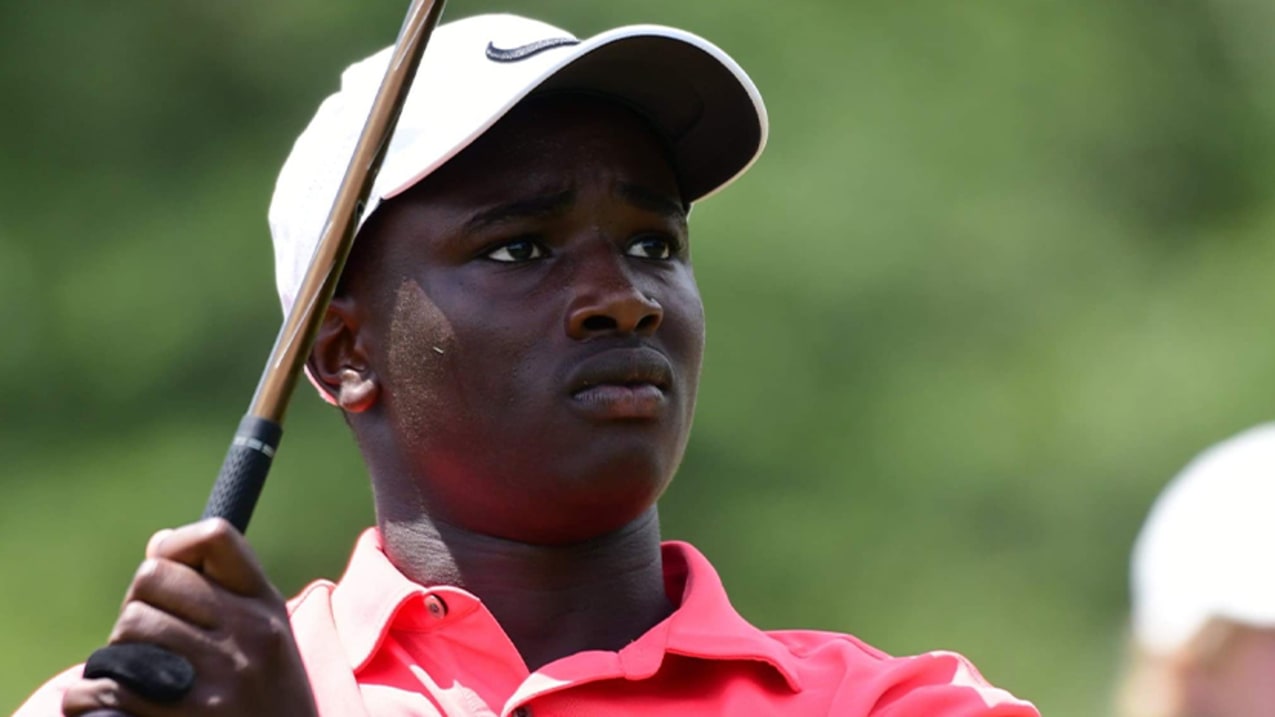 As students teeter on the brink of returning to school for the fall, many are still unsure of what these next few months will look like. But for one Memphis high school senior, the next steps were made just a bit clearer this summer.
Ben Nganga, a student-athlete at White Station High School, recently participated in the Congaree Global Golf Initiative, which provides a unique collegiate preparatory curriculum tailored towards high school students in the U.S. and abroad. Behind this program is The Congaree Foundation, which was established to provide resources for educational and vocational mentorship opportunities to help shape the lives of underserved and ambitious youths who share a passion for golf.
For Ben, who was introduced to golf through the First Tee of Tennessee in Memphis when he was just 10 years old, the term 'ambitious' barely scratches the surface.
After trying football, basketball cross country and track, the young Nganga ultimately had to make the decision to focus on one sport – and it was then, at the age of 15, that he chose golf and fully immersed himself into the sport.
"It gave [me] a lot of independence because I actually have to work by myself," he said of his decision. "It's individualized. How good you are isn't based on other players. It's based on yourself."
Ben went on to become the captain of his high school golf team, won the 2018 Memphis Publinks golf tournament and qualified for state in 2019. He also continues to give back to the program that started it all, serving as an assistant coach to the younger participants of his local First Tee chapter.
"First Tee prepared me for my future endeavors by instilling in me the core values that are essential to being successful and showing me how to be a leader whether it is on the golf course or at school," Ben explained.
But it's not just on the golf course where he excelled. In the classroom, he continued to demonstrate a commitment to his education by maintaining a 4.4 GPA; and in his community, Ben has been a volunteer at the St. Jude Hospital.
It's because of his excellence on and off the golf course, that Ben was selected to participate in the Congaree program. In previous years, participants had been invited to the private Congaree Golf Club during the summer months to work with educators, guidance counselors and golf instructors. They spend a portion of time working on the students' golf game, but mostly, they focus on the preparation for the college admissions process, assistance in obtaining academic and athletic scholarships and providing them general skills that will help with success in life.
Unfortunately, this was not a normal year. Instead of spending two weeks in June on the 3,000-acre Davant Plantation in the South Carolina low country, the program was just one week and purely virtual. But, as Ben is quick to point out, the program was still incredibly beneficial, nonetheless.
"At first I was not really familiar with the Congaree Foundation," Ben admits. "But as I took part in the program, I realized the outstanding reach and the great things it does for students preparing for college and playing golf at the collegiate level."
With hopes of attending Emory University in Atlanta, Ga., Ben wishes to study biology in a pre-medical track, in addition, to playing golf.
"Up until now, the college prep process had been difficult due to the lack of mentors," he said. "That is one thing that the Congaree Foundation has helped me with. I was able to communicate with people who had experience in these fields and ask any questions I had about the process.
"Through this program," Ben added, "I learned so much more about important steps I need to take during the application season this fall. I learned the importance of organization and time management, which is vital because there are so many things that must be done in both the classroom and on the golf course. This process has been invaluable."
---