For the last 19 years, the PURE Insurance Championship has welcomed teens from First Tee chapters nationwide to Pebble Beach Golf Links and Spyglass Hill Golf Course. Throughout the week the teens apply the life and leadership skills learned from First Tee programs during an event where they are paired with a PGA TOUR Champions player and amateurs from the business world.
For many of the teens who are selected for the tournament, the experience opens their eyes to the possibilities in golf and beyond as they are contemplating post-secondary education and careers, and in some cases, managing fears and emotions. This week, we take a look at several alumni who played in this tournament and how they've applied the lessons they learned from First Tee and this experience to reaching for their dreams.
Michelle Xie, First Tee — Silicon Valley
Played in 2013 with Kirk Triplett
Michelle recalls her participation in the PURE Insurance Championship as a once-in-a-lifetime opportunity. She played and won the tournament in 2013 alongside Kirk Triplett. The two established an immediate connection, which led to coachable moments on how to manage the mental and physical demands of the game – both on and off the course.
Nothing compared to the exhilaration, nerves and pressure Michelle felt walking down the fairway with Triplett as their pro-junior team was in contention. Those moments of mentorship provided Michelle great perspective to deal with the rigorous schedule of being a student-athlete at Harvard University.
Michelle graduated from Harvard in 2019 with a degree in molecular and cellular biology. She played on the women's golf team, receiving numerous accolades including being named the 2018 Ivy League Individual Champion and was voted as team captain her senior year.
In 2019, Michelle moved back to the Silicon Valley and is working as a software engineer. Although she is not spending as much time at the golf course as she once did, Michelle still uses the many time management and problem-solving skills she learned from competitive golf and First Tee. Now that Michelle is back home, she has become a volunteer coach at the First Tee — Silicon Valley to mentor the next generation of participants.
Rayshon Payton, First Tee — Metropolitan Oklahoma City
Played in 2005 with Gil Morgan
An alumus from First Tee — Metropolitan Oklahoma City, Rayshon remembers watching the U.S. Open at Pebble Beach on TV in 2000. From that point on, he dreamed of playing on the course one day himself. This dream became a reality in 2005 when he was selected for the PURE Insurance Championship, paired with PGA TOUR Champions player Gil Morgan. They found themselves in the final pairing on Sunday at Pebble Beach where Rayshon ended up holing out from the 12th bunker on national television.
Rayshon has continued to pursue his dreams off the course. He interned at The White House, working in the office of Public Engagement and Intergovernmental Affairs where he had the opportunity to work with Former U.S. Secretary of Education Arne Duncan and White House Senior Advisor Valerie Jarrett. Today, he is a graduate of the University of Oklahoma, College of Law, and has since held positions with the Senate Democratic Steering and Outreach Committee and Representatives Kendra Horn (D-Oklahoma) and Mike McIntyre (D-North Carolina).
Rayshon currently works as an Attorney Advisor in the Office of Legislative Affairs at the US Department of Justice.
Sara Scarlett, First Tee — Greater Sacramento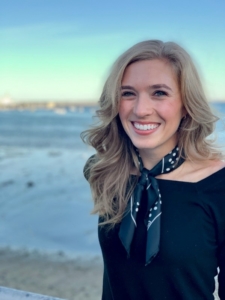 Played in 2011 with Jerry Pate
Being selected for the PURE Insurance Championship is a goal for many First Tee participants. That was definitely the case for alumna Sara Scarlett.
She joined First Tee around the same time that she was diagnosed with scoliosis, a curvature of the spine. Sara's confidence was low, and she was struggling to balance her medical needs with the desire to have an active and social childhood. First Tee became her sanctuary – a place where she learned the life skills and core values that would ultimately shape her into a confident teenager who always looked on the "bright side."
In 2011, she played in the PURE Insurance Championship with Jerry Pate. Some of Sara's favorite memories include chipping in on the 10th hole at Pebble Beach and the motivational talks with her partner. Sara went on to play on the women's golf team at University of Texas, graduating in 2017.
Sara has grown the last few years in her career and is currently working as a Digital Director . Sara says she is lucky to have been taught the value of diversity at a young age from First Tee.
Taryn Yee, First Tee — Greater Sacramento
Played in 2009 with Jim Thorpe
For alumna Taryn Yee, playing in the PURE Insurance Championship was the first major goal she set for herself and accomplished on her own merit. Yee claims that she felt like a star when she first arrived at the 2009 PURE Insurance Championship at Pebble Beach. Taryn played with Jim Thorpe, and she says the biggest takeaway was how confident she was at the end of the tournament. The PURE Insurance Championship and the lessons she learned there have provided her self-confidence that she carried with her through college and now into her successful career.
Taryn was a student-athlete at University of California, Irvine. As a freshman, she was selected to attend the PwC Executive Forum at THE PLAYERS Championship as an alumni opportunity with First Tee. At the event, she met PwC executives, spoke with clients and was introduced to the business industry and public accounting. This experience led to a new goal for Taryn, which was to graduate with an accounting degree and become a Certified Public Accountant (CPA). She accomplished that goal, which ultimately led her to career opportunities at PwC, The Gap, and her current position at Facebook headquarters.
Through setting goals and perseverance, Taryn has been able to stay positive and work through challenges to achieve her goals.
"I have the confidence that I can accomplish anything. There is no such thing as an intangible goal!"
Justin Potwora, First Tee — Greater Portland
Played in 2017 with Bernhard Langer
It wasn't too long ago that alumnus Justin Potwora was holding up the PURE Insurance Championship trophy with his partner, Bernhard Langer. Meeting First Tee participants from across the country and hearing about their experiences and perspectives left a lasting impact on Justin.
Justin graduated this spring from Southern Methodist University where he majored in finance. During his time in college, he was the Philanthropy Chair for his fraternity which raised more than $50,000 for Huntsman Cancer Foundation. Just is currently working as an Investment Banking Analyst for UBS in their Americas Energy Transition Group. He credits First Tee with teaching him how to act professionally, selflessly and never compromise his character and values in whatever he sets out to accomplish.
John Louie, First Tee — Monterey County
Played in 2009 with Donnie Hammond
Played in 2010 with Bobby Clampett
John joined First Tee — Monterey County not long after its inception in September 2004. John attended Salinas High School, but had visions of achieving more. One day he told his father that by using "Goal Setting," a life skill he had learned at First Tee, he had set a goal to attend Stevenson High School. John applied himself and with his parents' support, John became a Stevenson "Pirate."
John competed on the golf team for Stevenson and represented First tee — Monterey County in the 2009 and 2010 tournaments at Pebble Beach.
John was accepted to Middlebury College in Vermont, playing on the men's golf team for three years. He was tempted to stay on the East Coast and work in finance in New York City like many of his fellow Panthers. However, his heart was in Salinas and the agricultural town where he grew up. He was offered a position with Tanimura & Antle, one of the top agricultural companies in Salinas.
He has since worked his way up the company and now leads one of the firm's recent acquisitions, PlantTape. John serves on the Board Committee for Taylor Farms Center For Learning. In 2018, he was nominated as a member of the Board of Directors of First Tee — Monterey County, where he continues to give back by mentoring teens in the program.
---
Learn more about how we provide access to the game and new opportunities through our character-building programs.